A TRIBUTE TO ALBERT and CAROL NUSSBAUM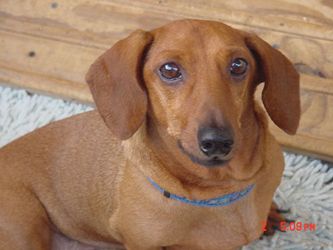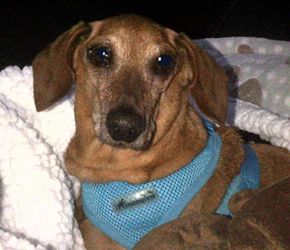 When we rescued Albert from the Camarillo shelter in the Spring of 2009, he was about 5 or 6 years old. He was sick, overweight, and paralyzed in his back legs. It looked very bad for Albert. Instead of having him treated for his medical needs, his owners had dumped him at the shelter and walked away, leaving Albert to his fate. Deemed unadoptable, the shelter scheduled him to be euthanized. A shelter volunteer contacted us. We would not let Albert die that way. He had spunk, personality – a big personality – and best of all he could still wag his tail.
So he went home with us, and within a short time, with lots of TLC, medication, physical therapy, combined with a weight reducing diet, Albert was up and walking again Albert not only walked quite well, he ran.


Not long after that, we introduced Albert to Carole Nussbaum and her family, Meredith, Bennett, and Grant. It was love at first sight – mutual love to be precise. And so began a love affair that lasted nearly six years. There was nothing Albert wouldn't do for his family, and they thoroughly indulged and cherished him. He became Carole's soul-mate and constant companion.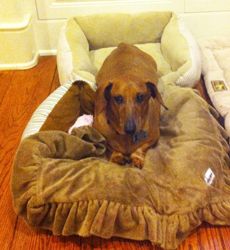 King Albert enjoying his "2-beds"
Wherever they went, Albert made friends and was a Good Will Ambassador representing rescued dachshunds everywhere. He welcomed new canine siblings into his home, totally ignoring the fact that they were not dachshunds. As long as Albert was "king", he was very happy. Albert made regular appearances at the Cabrillo Music Theatre in Thousand Oaks, accompanying his beloved Carole not only to her office, but occasionally on-stage to promote Carole's community outreach to make people aware of "rescue animals" and adoption versus purchasing from a breeder.
Carole became one of Southern California Dachshund Relief's biggest supporters and advocates. Recently, she organized a Matching Funds fundraiser to help SCDR pay off rapidly multiplying veterinary bills and to help more rescue dachshunds get the care they need and deserve.
At first, the goal was to match $2000 of donations from our fans and supporters. When that goal was met, she doubled it to $4000 in matching funds. Carole's generosity even inspired other individuals to match whatever funds were received in excess of the $4000 in donations. This was by far the best fundraising event we have ever had. A total of nearly $20,000 was raised and will help many dachshunds over the next few months. A huge THANK YOU goes out to all of you who contributed, and especially to Carole for inspiring this success.