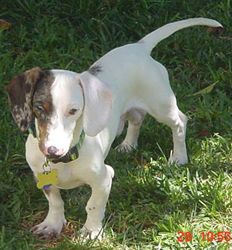 Name: Avery 2795
Age: 14 months
Color: Black & Tan Double Dapple
with 2 blue eyes
Coat: Smooth
Sex: Male/Neutered
Weight: Mini - 10 lbs.
We rescued Avery and three other dachshunds out of the small Santa Maria shelter near Santa Barbara. Avery and the others were all from a back-yard breeder who was shut down by Animal Control for numerous violations. Surprisingly, all the dogs we rescued were healthy, socialized, and friendly. That's not always the case with dogs from illegal kennels. All four of the dachshunds were a bit underweight, but have good appetites, so bringing them up to speed was easy.
This boy is a bit shy and cautious when meeting new people, but he has not been out and about in the world. He needs a family that takes him for walks and various outings and work on exposing him to lots of new people, new situations and new things. Because he is young, he would love to have a canine sibling in his new home for both play and companionship. We don't know how he feels about cats, but he is certainly young enough to learn to leave the kitties alone.
Avery is the biggest of the group and an extremely long dachshund so no stairs for this boy. He needs a home that is one level or with only a few stairs that can be ramped. Although Avery is a double dapple, he has no deficits from his genetic make-up. He is wonderfully healthy. (Blindness and deafness are common faults in double dapples.)
Avery is still very much a puppy, and requires training and someone home much of the time to help him continue to practice his good potty habits as well as learning to walk nicely on the leash. Families with previous dachshund experience and children over 8 years old are encouraged to apply for him. Avery cannot be an "only dog" or an "apartment/condo dog". He needs access to a yard with a dog door and another dog for canine companionship. Avery does not bark excessively, just when necessary.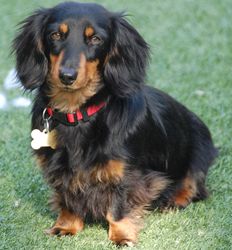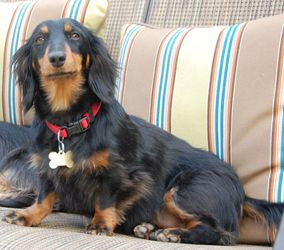 Name: Lilly 2833
Age: 3 years
Color: Blk/Tan
Coat: Long hair
Sex: Female/Spayed
Size: Tweenie 14lbs.


Lilly's family was a Naval family, and when orders to go overseas came, Lilly couldn't go with them. Luckily, a wonderful rescue group we work with stepped in and took Lilly when the family contacted them, so she didn't end up in a shelter. The other rescue group has done a wonderful job on Lilly's socialization skills, but felt it would be in her best interest to be in a dachshund rescue group to find her a perfect home.
When our Central CA rep initially went to meet Lilly and called out her name, Lilly went right up to her, tail wagging and asking for attention. When she sat down and called her name again, Lilly went right over and jumped into our rep's lap. Lilly gave her kisses and immediately snuggled right into her. It was a done deal, and Lilly became an SCDR rescue dog.
At her new foster home, Lilly will "announce" visitors have arrived like the typical doxie, but it is not a fearful bark just an announcement. Lilly is wonderful with all dogs, large and small. She adores her foster siblings, plays with whichever doxie is in the mood, or she is happy playing solo with her toys, especially her balls, and she goes wild over her deer antlers. Lilly does have a prey drive and when outside, she is on patrol with a couple of her doxie siblings chasing squirrels and other aliens they see. We feel she would be better suited to a home with no small critters in the house.
Lilly loves everyone she meets, always wagging her tail in delight, she wiggles and squiqqles when she meets a new person, and of course, that sweet adorable face is enough to turn a head or two!