Papa Dach - Buster, Mama Dach - Lola, Baby Dach - Teenie. . . . and like the Three Bears, this family is a complete set ready to take on a new forever home. The family was turned over to SCDR when they were no longer wanted by their owner in Central California. (It is possible that they were backyard breeders, but we do not know for sure.) What we do know, is this little happy little trio will bring countless hours of joy, happiness and laughter to their new home.
The three run shoulder to shoulder, bumping into each other, and passing on little kisses and tail wagging. When our wonderful volunteer Janice Adams drove them down to us on September 29th, they were nervous and confused, and oh so wary of their foster home, but they had each other.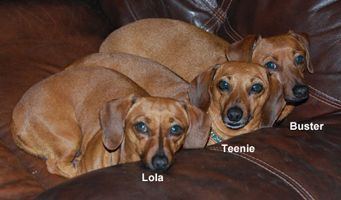 Within the first 24 hours, Buster and Teenie were sitting on laps and the couch, freely giving their love to us. Lola the mama, was still very cautious and would not allow us to pick her up or touch her. Could she be in pain or hurt somehow? No, it was just her defense mechanism kicking in. Whenever one of us reached for her, she sounded like a smoke alarm going off and we had to stifle our laughter at the noise.




A few days passed, Lola continued to watch intently every interaction that Buster and Teenie had with the humans, ever ready to protect them if needed. At our recent Hallowiener event, Lola had to stay home as we were afraid she would scare off any potential adopter with her shrieking. Buster and Teenie were outgoing, happy and very friendly to all the volunteers and potential adopters during the event.




Slowly, Lola has warmed up to us in her foster home, she now allows us to pick her up without the shrieking, and we can kiss her and stroke her head, neck, face, chest without fuss or hesitation on her part. We do know her new family or parent will have some work to do at the start, but she will reward them ten times over with her devotion.




The Dach family love going on walks, riding in the car and of course the endless hours of backyard sun bathing and hunting. Yes, they are hunters and have reduced the bug population by a few. They are NOT barkers, they have zero bad habits, eat well, are crate trained, dog door savvy, and are really just about perfect.




They really would be happiest if they are placed together, we realize that adopting three at one time is difficult for most looking to adopt, so we will consider placing two of them together, and/or separately if there is another doxie in the home for companionship, but their little hearts may be broken if that does come to be, as they are a very bonded little family.




Buster is quiet, gentle, affectionate yet outgoing and playful. Lola is timid, shy, playful and sweet. Teenie is personable, happy, funny and very outgoing.




Will you be their hero? Will you be the one to give them a fresh start in life? If the answer is yes or even maybe, please consider adoption of the family by filling out our on line adoption application and we will go from there.




If you have any questions, feel free to contact their foster mom, Dawn, at 714 961-0114 or email dawnaa@pacbell.net.


The tax deductible adoption donation for the family is $475.00.
Individually, Lola or Buster is $200.00.
Teenie is $275.00.