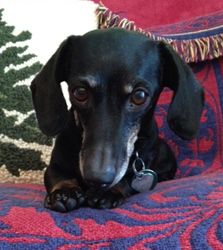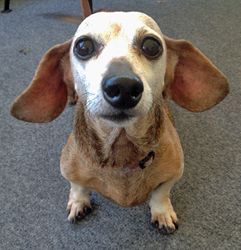 Name:

Sigi 3372




Age:

11 years




Color:

Black & Tan




Coat:

Smooth




Sex:

Male/Neutered




Size:

Mini– 9 lbs.



Name: Princess 3373
Age: 12 years
Color: Red
Coat: Smooth
Sex: Female/Spayed
Size: Mini – 9 lbs.

When Princess and Sigi's owners passed away a few years ago, they went to live with the daughter and her family. They already had two dogs, but although they lived in a small home, they made it work. They promised their parents they would take the dogs and they kept their promise. However, lately, working long hours have left the dogs alone way too much. So, they have asked SCDR to help find a home for Sigi and Princess where they will get more love and attention than they do now.
Princess and Sigi are a bonded pair. Princess is a gentle, sweet and affectionate little girl. Sigi is all of that and more. They are as fabulous as they come and will make any new family both happy and proud to have this pair. They are good with children over 10 years old, but would also be great with empty-nesters as well. We don't know how they feel about cats.
They walk well on a leash. Both are playful with each other. They sleep peacefully in their little bed at night, curling up side by side until morning. They are house trained, and need a home with a doggie door.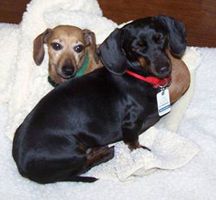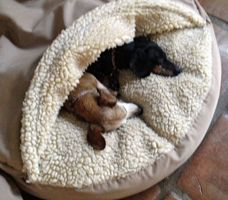 Princess and Sigi are beautiful inside and out, and have sleek smooth coats. They love to be brushed, and enjoy belly rubs and ear massages. They are "drop dead gorgeous" dachshunds, perfect in proportion and temperament. They both love to explore the yard, and can often be found outside enjoying the day and the warm sun. Sigi wants to snuggle up with Princess as much as possible.




Princess and Sigi are fully vaccinated and microchipped. They have received regular dental care. All they need is a family to love them for the rest of their lives. Do you have an empty lap that needs warming? Does your face need washing with doggie kisses? Then Sigi and Princess are up to the task.




If you can provide these two a loving home together, please contact Dena at 562-694-6868 or email Dena@SCDR.org. A home check and an adoption application are required.


The tax deductible donation for Princess and Sigi is $200.00 for the pair.
They are not available individually.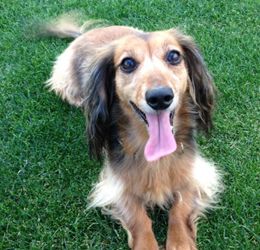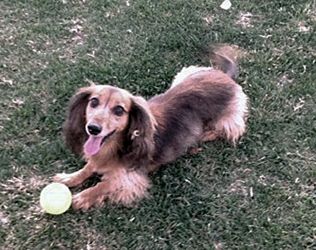 Name: Karly
3368
Age: 10 years
Color: Red Sable
Coat: Longhair
Sex: Female/Spayed
Size: Mini - 10 lbs.
Karly lost her family through no fault of her own. They had set-backs that forced them to move to a much smaller residence, no-pets permitted. So, after trying on their own to find Karly a place to go, they contacted us, and we whole-heartedly agreed to take Karly into our rescue program and find her a wonderful home.
When Karly arrived at her foster home, she was very shy. She had never had another home, and this was a very big change for her. After a day or two, she adjusted. Happy, friendly, and affectionate are words that come to mind when we think about Karly. We scheduled her for a much needed dental cleaning too.
Karly is a little princess. She could be an only dog if her people did not work long hours away from home, or she would be fine with another small dog for play and companionship. She had a very small Chihuahua in her previous home, and they got along very well. She even lived with cats and had no problem with them.
Karly is a good eater (always appreciated by foster moms). She sleeps in a cushy dog bed in the master bedroom. She loves going for walks and enjoys rides in the car. She likes to ride in someone's lap.
Previous experience with longhaired dachshunds would be a plus, but not mandatory. Karly's long coat will require regular brushing and occasional professional grooming so she can look her absolute best. Families with children 8 years and up or empty-nesters are encouraged to apply for Karly. She would be happiest in a home where she can be the center of your universe. She is house trained and knows how to use a dog door as well.
Karly is up to date on all her shots and she's been microchipped. She is ready to find her forever family. If you have the type of home Karly needs, please contact Dena at (562) 694-6868.or email Dena@SCDR.org. A home check and adoption application are required.

The tax deductible donation for Karly is $150.00.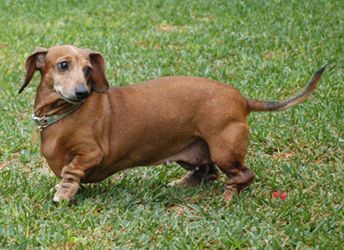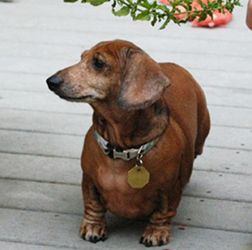 This dog is being fostered in the San Diego area.

Name:
Chloe
3366
Age: 5 years
D.O.B.:
08/09/2009
Color:
Red
Coat: Smooth
Sex: Female/Spayed
Size: Chubby Mini – 14 lbs.
Chloe can't figure out what happened. She was somebody's spoiled baby for five years, and suddenly she found herself in a foster home with fellow dachshund refugees. Chloe was turned over to rescue when her owner became too ill to properly care for her and went into the hospital.
Chloe is a VERY sweet girl who is a bit confused by her new situation, but is adjusting very well and gets along with all the dogs in her foster home. She really wants nothing more than a lap to snuggle in and to give sweet little kisses. Get a load of those big, wrinkly dachshund feet.
Chloe is on a diet to help her lose a few pounds, and is getting medicated baths for a very mild skin condition, but otherwise is completely healthy and up to date on her shots. Her foster home is working on a refresher course in housebreaking, but as long as Chloe is taken outside and told to "go potty" she does very well.
She walks well on a leash and knows basic commands like "sit." Chloe is definitely a woman's dog, but doesn't shy away from men. Chloe is safe with children over 8 years old. We don't know if she is good with cats or not.
Chloe needs a home that is all on one level with no stairs and just a step or two that can be easily ramped to make it easy for her to navigate in and out the door. She is one of those "low riders" with very short legs. She should not use the stairs at all. Jumping off the furniture is another "no-no" for her.
If you can give Chloe a loving home, please email Dena@SCDR.org or call (562) 694-6868. A home check and an adoption application are required.

The tax-deductible donation for Chloe is $200.00.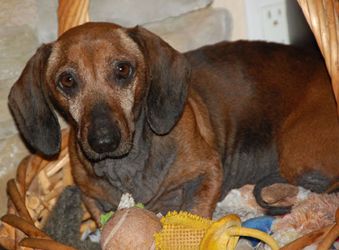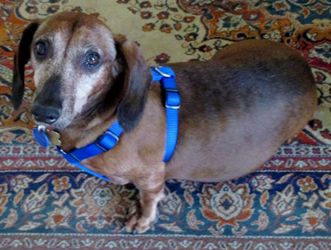 Before - March 2013 Current - September 2014
Name: Marcus
3045
Age:
8 years
Color:
Red
Coat:
Smooth
Sex:
Neutered Male
Size:
Tweenie - 15 lbs.
In
May of 2013, when the call came from the Camarillo Shelter about an older doxie
in really bad shape, we had no idea what the situation
was, but we knew we had
to help.
Marcus was in dire need of help
and his little body was like none we had seen before.
From his chin to the tip of his tail, the entire underside of his body, legs, under his legs, his paws, his neck, his feet, he was nothing but black hard skin, so hard it looked like a pair of old leather shoes that were left in the rain, and then sun dried to a hard shoe that was no longer wearable. But, little Marcus still had the "oomph" it took to carry on, how we will never understand. No little dog or animal should have to go through what he has been through.
So, what was it? Most likely a yeast infection that had been untreated and left to grow and linger for months, perhaps years, we will never know. We started him on antibiotics, and a balm to coat the hard surfaces, and he did respond, but the condition was harder to control than we initially thought. Our fabulous vet, Dr. Howe, then put him on a regimen of medications, trying one then another to help resolve the problem. We had a few set-backs, he is now on the road to healthy skin and a happy outlook.
Through it all, Marcus has been a real trooper. As miserable as he must have been, his spirit has not been broken, nor does he hold a grudge. He just wants to have a loving forever home. Marcus must have a grain free diet, so he is eating a sweet potato and fish blend, along with a squirt of fish oil daily to keep his skin smooth and supple. The Omega 3's are really making a difference.
Marcus has a big personality, and it has gotten bigger and better in conjunction with his improving health. However, he can still be a little grumpy at times. He is best suited for an adults-only home, or a family with teenage children. He s fine with another small dog (preferably female). He does not like cats and has made that perfectly clear. He enjoys his weekly bath, going for daily walks, and looks forward to car-rides every day helping his foster mom drive her son to and from school.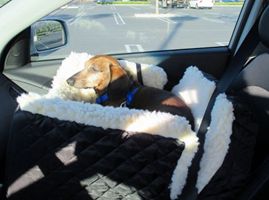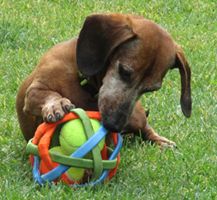 Marcus does chase squirrels, but he is always wagging his tail at them at the same time. Marcus loves his toys, and he is obsessed with one at a time. Each one is given intense individual attention at one time or another. He does not want to share his toy with any other doxie, so toy-time should be supervised if the other dog likes toys too.
Marcus has many good years ahead of him, and only wants what all doxies want, his own forever home. If you are interested in Marcus, please contact Dena at 562-694-6868 or email Dena@SCDR.org. He will love you forever. A home check and
adoption application
are required.
The tax deductible
donation for Marcus is only $100.00.