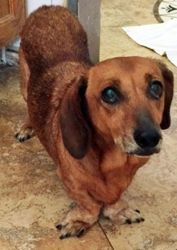 Name: Trina
3365
Age: 11 years
Color:
Red
Coat: Smooth
Sex: Female/Spayed
Size:
Tweenie - 16 lbs.
Trina was found by a Good Samaritan wandering around the parking lot of a small shopping center and was turned over to rescue the next day. Trina had no collar or tags. A subsequent trip to the vet revealed no microchip. Trina was loaded with fleas, had infections in both ears, both eyes, and had sores and scabs all over her body from her chest and back down to the tip of her tail. Her toenails were curled around and digging into her pads. Her teeth looked like she had been chewing rocks – some worn down to nubs and some cracked/broken. She was so grateful for a warm bath, getting her ears cleaned and medicated, and some antibiotic drops for her goopy eyes. She slept like the dead the first few nights in rescue. It seems like she was never in the house before, and had never had a blanket of her own. She just broke our hearts.
Trina is a wonderful guest in her foster home. She is so polite. She eats everything in her bowl without complaint, enjoys the company of the other dogs, but is not overly social. She likes to observe all of the activity. She will share her blanket with any of her fellow refugees. She loves her nighttime crate and fluffy blanket, and she like to sleep late in the mornings.
Trina is really enjoying her new foster home. The food is good (ask her, she'll tell you), and she gets to bask in the sun on the patio every day. She likes to explore the yard too. But most of all, she wants to be somebody's special girl. Trina is a cuddler and wants to be in any available lap; loves going for leisurely walks, and adores a car ride.
Trina is crate trained and appears to be house trained as long as she is kept on a potty schedule. That is, she needs to be taken for walks or outside to the yard for potty purposes several times a day. She knows the dog door. However, she thinks its use is optional. Trina sleeps in a crate at night, sometimes alone, sometimes with another foster dog. But truthfully, Trina really wants to sleep in the big bed with her foster mom. It's just that the bed is so high, if she fell off or, God-forbid, jumped down, she could get seriously hurt. So she is making do with a crate in the master bedroom with some very comfy blankets and a fleece mattress.
We don't know if Trina is safe around cats, but as she is older and slower, she should not pose much of a hazard to dog-savvy cats. She would be an ideal companion for a retired couple who just want a sweet doxie to love and spoil. Families with gentle children over 10 years old would be fine for her too.
Because she is a senior gal, Trina will need a home that is all on one level with no stairs and just a step or two that can be easily ramped so she could navigate in and out the door easily. At her age, jumping off the furniture or going up and down stairs is just out of the question.
Trina has had all her vaccines
She gives
sweet kisses.
She now has a microchip.
If you can give Trina a
wonderful home, please
contact
Dena
at
Dena@SCDR.org
or call
(562) 694-6868
.
An
adoption
application
is required.
The adoption fee for Trina is a modest tax-deductible donation to SCDR